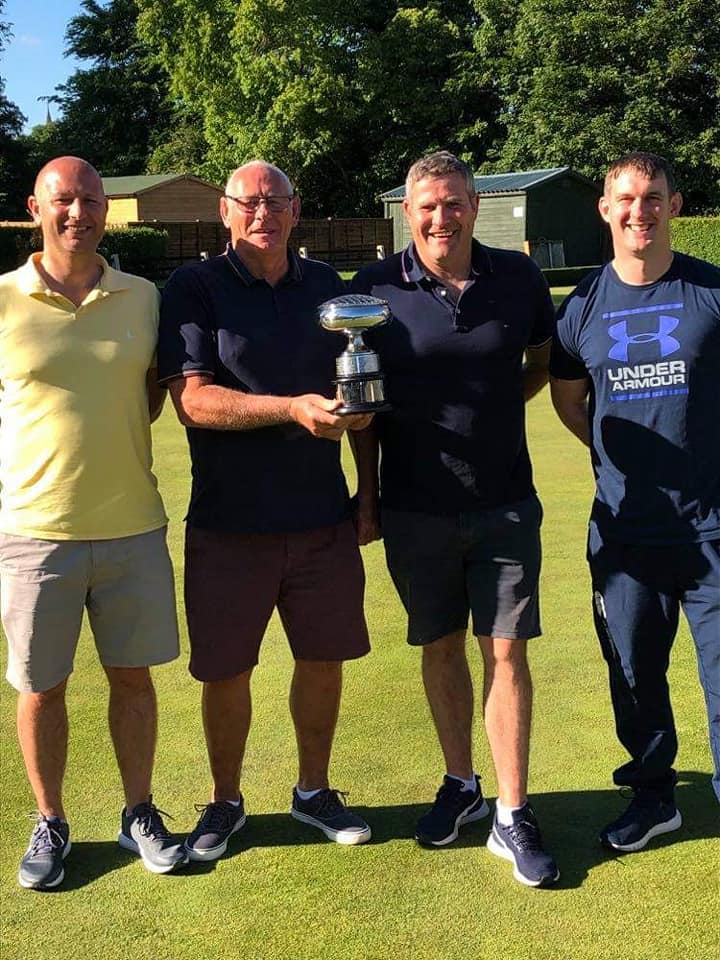 2 Bowl Pairs
32 players took to the green to compete for the club 2 bowl pairs trophy.
The pairs were all drawn from that hat and with the sun beating down a fantastic tournament played out.
4 groups of 4 teams played 3 games of 6 ends with the winners of each group progressing to the semis.
such was the competitive nature of the groups, two of them had to be settled via play offs as pts and shots could not separate them. One of the groups actually had a 3 way tie.
Once the play offs had been decided, the semis between the Lindores duo and S fisher and D Bell ended with a comfortable win for the Lindores team. Ali White and Gregor Taylor played well to get past the pair of Ann Gilfillan and Podge Somerville.
The final produced some great shots with both the leads playing well. Pup Lindores saved his best bowls for the final and played some telling shots under pressure from Ali. In the final end, Ali and Gregor found themselves 3 shots down and with the final bowl tried to burn the end. Ali played the strike and unluckily only managed to bin it gaining only 2 shots .
Final score R and E Lindores 8 - 7 G Taylor & A White.
2nd Warm Up Tournament
The 2nd warm up tournament of the season took place on sat 15th May and the Club members took part in 3 games of triples with the winners of both sections playing off in a final.
The winners of today's tournament being Chloe Stewart, Craw Law and Laura Lightbody who defeated Irene Waters, Babs Hogg and Tony Turnbull by 11 shots to 2 in the final.
Well done.
Next week, will see the start of the traditional club tournaments.
First up is the Starrett Cup to be held on Sat 22nd May at 1.30pmWe are now restricted to 50 players on the green so let's get as many names in as possible.
Inside bar with draft beer will also be back.
Contact John Taylor to confirm your entry.
Monday Night Hat nights
The Monday night Hat Nights have returned.
Due to Covid restrictions, please contact John Taylor or David Lightbody to book your entry. All names have to be in by 6.30pm for a 6.45/50 start.
Format will be decided on the night.
Warm Up Tournament 2 bowls Triples
After Saturdays tournament was postponed to Sunday to avoid the worst of the weekends weather,, a hardy group of members turned out for a little warm up tournament.
With names drawn from the hat, The format was 2 bowl triples in a round Robin format.
The winners being Ian Dick, Elaine Turnbull and Tony Turnbull.
Well done All.
Members Fees 2021
Membership fees are now being accepted for the 2021 season.
Fees are;
Full Member. = £60.
New members. = £30.
(including 2020's new members)
Regional Members =£30Juniors. =£10
Social Members =£10
Fees can be paid by cheque Or by Bacs.
Sort Code 83-23-14 & Account Number 00170892.
Thank you.
All new members are asked to fill a membership form with their contact details.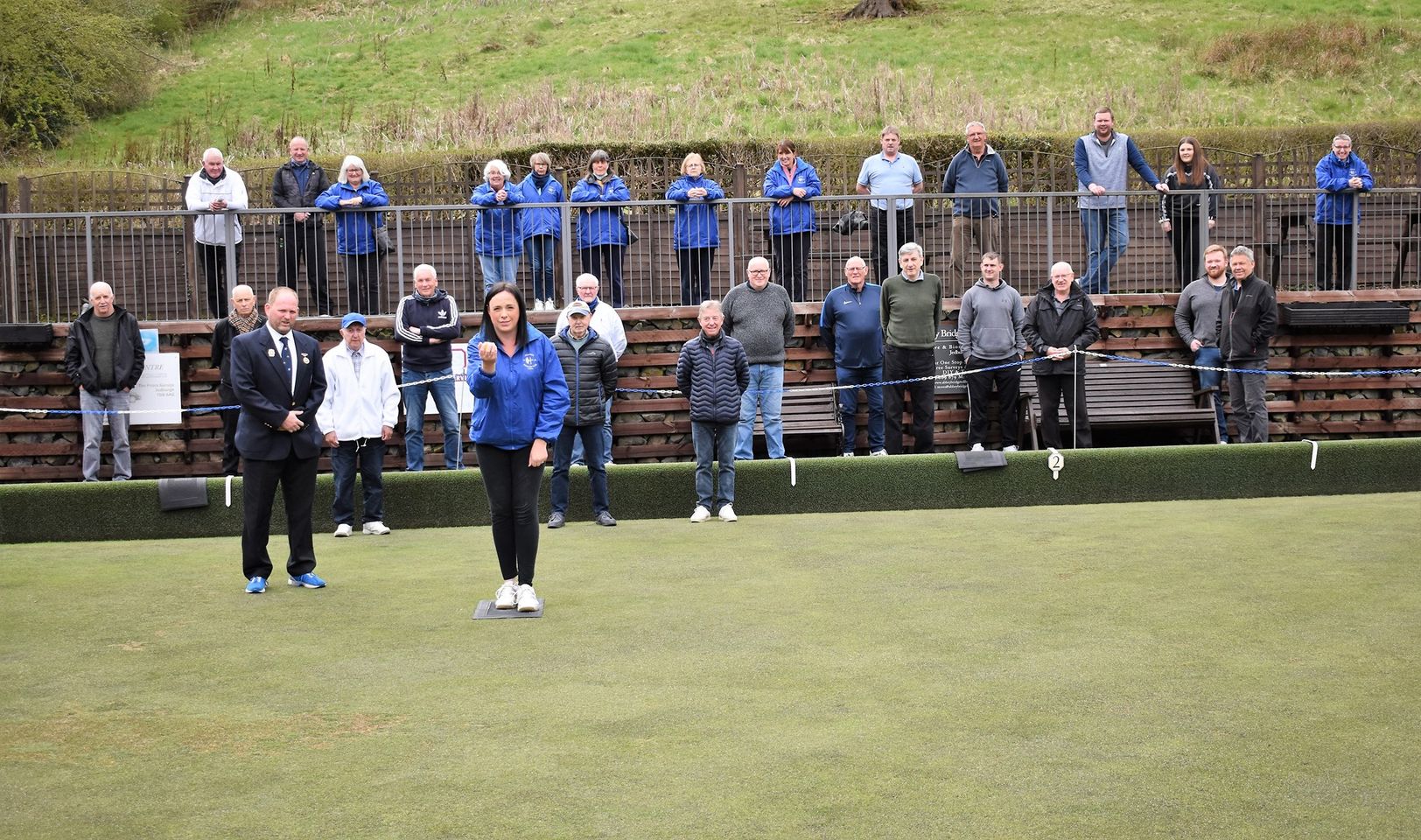 OPENING DAY 2021
#With Covid restrictions limiting numbers to 30 the club opened the green for the 2021 season.
President David Lightbody thanked all for attending and asked for a minutes silence to remember the past members that we have lost over the past year. This years reflection also included thoughts for all who have lost loved ones due to the pandemic.
David then raised the club flag and asked his wife Laura to throw the 1st Jack.
A game for triples was then played between a presidents team and vice presidents with the Presidents team wining by 1 shot.
Opening of the green 2021
With the easing of Lockdown restrictions the club will be opening the green for play on Sat 1st May at 2pm.
Some restrictions will still be in force with only a maximum of 30 players being allowed on the green and bar facilities will only be available out side.
Places for the opening day game will be available on a 1st come 1st served basis.
Of course, all new members will be made very welcome with all new members enjoying a years subscription for only £30.
All equipment can be provided to new players for free un till you feel confident enough to purchase your own.
For more information on playing bowls click here Introduction to BowlsAn introduction to bowls
Jedburgh Bowling Cub AGM Wednesday 24 March 2021 will be held via Zoom
Dear members, 2020 has been a year none of us will forget in many ways, but on the playing side it is the first time in our history that no ties were played. We were however able to commence play in the second half of the season, albeit in a very restricted and controlled manner, and for this we are grateful to the hard work by Tony Turnbull in creating a risk assessment allowing safe play within the Scottish Governments guidelines for sport.
This year's AGM will unfortunately not be done face to face but will instead require to be done through Zoom (this is an app which can be played through laptop, tablet or mobile phone, once you download the app onto your chosen device. Should you feel that this is an inappropriate way to hold the AGM please let me know as soon as possible but in order to hold our AGM in some fashion a majority decision will prevail?
IF YOU WISH TO LOG IN TO THE AGM AND PARTICIPATE PLEASE RESOND DIRECT TO JOHN TAYLOR AND HE WILL ARRANGE FOR LOG IN DETAILS TO BE SENT IN ADVANCE OF THE MEETING. PLEASE NOTE YOU WILL NEED TO REGISTER TO ALLOW THE ADMINISTRATOR TO CONTROL THE MEETING.
The Agenda will be along the following lines, and if you have any comments or questions please come back to me before the meeting and we can arrange for a Question & Answer (Q&A) sheet to be compiled and sent out to everyone.
During the meeting you will be asked to turn on your video symbol so that you can be seen. Everyone will be "muted" by David to ensure no background noise, with only the speaker "unmuted". Should you wish to ask a question please either press the hand icon or simply raise your hand so that you are visible to the camera and David can then "unmute" you.
Happy New Year to all our members.
Lets be honest, 2020 was possibly the strangest year in the the clubs 162 year history. Coronavirus (Covid 19) has it the world hard and it certainly looks like 2021 isn't going to be plain sailing either.

The Pandemic looks like it is going to prevent the return to normality for the bowling community over the next 12 months but the Jedburgh Bowling Club will strive to provide as safe an environment as possible for its members and we look forward to welcoming you all for the 2021 season.