Click the year to reminisce

Season 2020 review.
The Club was eventually able to open the green for play during the Covid 19 pandemic in mid July, However, strict guidelines were put in place so that we were able to follow all Covid rules.
In August the restrictions were relaxed a little and the Bar area was allowed to open and tournament rules were relaxed which allowed us to play larger tournaments and finish the season off with a flourish
** Special New Members Offer **
Looking for something to do during lockdown? Why not try Bowls!
Now that lock down has entered phase 2, the Jedburgh Bowling club is now able to offer new members this fantastic opportunity on becoming a playing member of the Club.
£10 for the remainder of the year,
£30 for next year.
Normally £60 per year
Membership includes access to the clubs facilities (Current Covid 19 rules apply,) a loan of bowls and shoes and free tuition on request.
All for just £10 for the rest of the season. Also included is the whole of next season for just £30.
To take up this fantastic offer please email the club at Jedburghbowlingclub@btinternet.com, PM the club on Facebook, call David Lightbody on 07852230477 or Contact any club member.
Download a membership form here
CLICK HERE
ANNOUNCEMENT
The Club is happy to announce that with the Scottish Executive moving to phase 1 of lock down relaxation and in conjunction with our governing body, Bowls Scotland, We will be opening the green to its members at 11am on Saturday 30th May.
This phased opening will take place under strict guidelines which are posted at the end of this statement Any question regarding the guildines contact
John Taylor on 07761407540 or David Lightbody on 077852230477.
The Guidlines must be obeyed AT ALL TIMES and the club will have a designated person in charge at each session.
Session times will be in 1 ½ hr slots and should be booked through John Taylor 07761407540with at least 12hs notice.
The allotted time slots are 11am-12.30pm. 1pm-2.30pm. 3pm-4.30pm and 6.45pm till 8.15pm. The green may be closed on various days to allow for green maintenance
You will only able to play as a pair with someone in your household and 1 other pair that live as a couple, as a singles match with any person or on your own. When booking the rink you must state all players that will be on the rink.
The green is only open to pre paid up members and if you have been to self isolate due to a medical issue, you MUST NOT attend.
Social distancing must be observed all all times.
COVID-19 Instructions for Getting Back on the Green
If you who have COVID-19 symptoms or if anyone in your household displays symptoms should stay at home and follow NHS guidance. No one who is self-isolating should attend the club. If you are deemed at a higher risk and have health issues/shielding you should stay at home.

If you are 70 or older (with or without certain chronic medical conditions or compromised immune systems) you are at moderate risk (clinically vulnerable) you should stay at home as much as possible. If you are leaving the house it is important you follow the advice on social distancing

PLEASE BE AWARE ONCE YOU ENTER THE GATE YOU DO SO AT YOUR OWN RISK. CORONAVIRUS IS AN UNINSURABLE RISK

No play is allowed if there is any maintenance being carried out on the green or the surrounds

The Clubhouse and toilets will remain closed.

The person in charge of the session will use the master key to fetch bowls locked in a locker. Members must change outside and must not use the benches. We suggest that you change your shoes in your car

There will be a person attending each session to remind members of the instructions around play

If you are looking to play you must go through the clubs booking system and not just turn up to the green to play, otherwise you will be turned away. When booking please contact John by phone or text John:- 07761-407540 and advise who will all be playing on the rink. Do not turn up more than 5 mins before due to play. Please arrange the day before you wish to play to allow session to be properly organised and confirmed. This also gives person in charge of session the required information

There must always be an empty rink between each rink in use. e.g if using rinks 1,3&5 then 2,4&6 remain closed

We will operate a one way system on the path. Please always go in a clockwise direction

Please check where the entry and exit points are for the rink you are playing on.

Bring their own hand sanitiser and use this throughout play (only use it at edge of green not it)

The 2m social distancing rule must be observed on and off the green

Players should only play individually, with members of their own household or between members of two households where social distancing can be maintained.

Please us hand sanitiser when entering the gate

Please sanitise your mats and jack before starting and before leaving. Please see the guidelines on sanitising the equipment.

During play the same person should set the mat at the required position throughout the game. Have a jack available at both ends and set them at the desired position with your foot. Do not touch the jack if you can avoid it.

DO NOTS: pick up another players bowl. Share equipment eg cloth. shake hands, high-five. Moisten hands with saliva (lick fingers or spit on hand). Drive or play running bowl that will go into the next rink

Please stick to your allotted time and sanitise the mats and jack before leaving. The next session cannot start till you leave so please do not loiter or congregate around the green

Players must not consume alcohol before, during or after play at the club, smoking at the green is also not allowed. No spectators are allowed, and nobody should sit on any of the benches.

Please take any rubbish home with you, we ask that you do not touch the rubbish bins at the club.
COVID 19 UPDATE
THE FOLLOW GUIDELINES HAVE BEEN SUGGESTED BY BOWLS SCOTLAND. THE JEDBURGH BOWLING CLUB WILL BE PUTTING OUR RETURN TO POLICIES AS SUGGESTED BELLOW INTO PLACE ASAP AND MEMBERS WILL BE ADVISED ON ALL GUIDELINES.

WHEN WE DO RETURN TO PLAY PLEASE ADHERE TO THE POLICES AS WE ASK YOU NOT TO PUT THE COMMITTEE INTO A UNCOMFORTABLE POSITION
COVID-19 Guidance for Getting Back on the Green

Phase 1 – Bowls included in extension to daily exercise guidelines (22nd MAY 2020)
Effective from: 29th May 2020 (Subject to the Scottish Governments final decision being made on the 28th)
Bowls Scotland continues to fully support and follow the Scottish Government guidelines relating to COVID19, including ensuring the safety and well being of all members of Bowls Scotland. Working in partnership with the Scottish Government, Sportscotland and our members, we have produced guidance for clubs in line with Scottish Government guidance on sport and physical activity.
This guidance is not a 'one size fits all' approach as we appreciate bowling facilities vary across Scotland and as such individual bowling clubs should risk assess appropriately to ensure these procedures can be implemented. Please continue to err on the side of caution; clubs should not open unless all the necessary measures to ensure the safety of players and volunteers can be implemented. Players should only play if they feel fit, well and can adhere to the guidance put in place by their home clubs.
There is absolutely no urgency or pressure to return to the green, however if clubs and players feel ready and the following guidance is adhered to, bowling activity can resume but should ONLY include practice individually or games with members of your own household or between members of two households where social distancing can be maintained.
This guidance is split into four sections and will be subject to review once the Scottish Government issues further advice and guidance:
1. Guidance for Clubs
2. Guidance for Players
3. Guidance for Bowling Activity
4. Additional Information
1. Guidance for Clubs:
• Clubs should carry out and document appropriate risk assessments for all relevant areas of their facility
• Club house facilities (including toilets) should remain closed until further notice. However, where the green can only by accessed through the clubhouse the club must ensure that players enter and exit one at a time, ensuring physical distancing guidance is adhered to at all times. Players should not cluster within the club facility
• No club friendlies, internal competitions/club ties or external matches should take place whatsoever.
• Bowling clubs are responsible for ensuring the club and members comply with Scottish Government legislation and follow the guidance outlined within this document
• All club volunteers should work from home (where possible) apart from Greenkeepers who can maintain the green as per guidelines set out on the Bowls Scotland website.
• Club meetings should not be held face to face.
• No alcohol consumption to take place before, during and after play at the club and we encourage all members not to smoke/vape/electronic cigarettes at the green
• Clubs should check with their insurance company that the correct and full cover is in place before any play can take place.
• Clubs should advise their members if and when their bowling green is open and ready for play and what procedures must be followed for those planning to play
• Clubs should check with their landlord that they have permission to re-open
• All other Bowls Scotland policies and procedures must be adhered to.
• No spectating should take place
• Clubs should ensure a clear plan is in place for the cleaning of equipment before, during, and after play and provision should be made for this. For example, disinfectant spray must be made available by the club and accessible for those playing. More information is available here https://www.hps.scot.nhs.uk/web-resources-container/covid-19-guidance-for-non-healthcaresettings/
• Consideration should be made for members who require mobility support
• Clubs should organise a system for booking and allocation of rink times that ensures the safety of Players • Clubs are not required to open their green/s and should decide on what best suits the club and its members.
2. Guidance for Players:
• Players who have COVID-19 symptoms or if anyone in their household that displays symptoms, those players should stay at home and follow NHS guidance. No one who is self-isolating should attend the club
• If a player/s are deemed at a higher risk and have health issues (those aged over 70 and/or those with chronic medical conditions or compromised immune systems), they should remain at home until Scottish Government guidelines change
• Players who are shielding should not attend the club
• Players should check if the club is open for play. Please be patient and understanding if the club cannot open the green
• Players should go through the clubs booking system and not just turn up to the green to play
• Players should only play individually, with members of their own household or between members of two households where social distancing can be maintained.
• Players should not consume alcohol before, during or after play at the club and smoking at the green should be discouraged
• Players should not attempt to enter the club house as these facilities will remain closed. However, where the green can only by accessed through the club house players should enter and exit one at a time, adhering to social distancing guidance at all times. Players should not cluster within the club facility.
• Players should follow the 'Guidance for Bowling Activity' section set out below
• Players travelling to bowling greens should do so in line with the Scottish Government Travel/Transportation Guidelines E.g. It is permitted to travel short distances for outdoor leisure and exercise but advised to stay within a short distance of your local community and travel by walk, wheel and cycle where possible www.gov.scot/publications/coronavirus-covid-19-staying-at-home-andaway-from-others/pages/exercise/
3. Guidance for Bowling Activity:
Green Set Up prior to play
i.Ensure green is fit for play.

ii. All equipment to be removed e.g. 2m Sticks, Score Boards, Chalk, pushers etc (except rink markers)
iii. Benches, ashtrays, and bins to be removed, covered or sign-posted in such a way that members do not touch or use them.
iv. Consider what support your members might need to play (for example those with mobility challenges)
v. Players must bring their own hand sanitiser and use this throughout play
vi. There must be one rink space (an empty rink) between each rink in use. As an example, a 6- rink green should have rink 1, 3 and 5 in use or 2, 4 and 6. i. Bowling Clubs with more than one green need to ensure that compliance is achieved across all greens.
Before Play
Bookings:
i. Clubs should organise a system for booking and allocation of rink times that ensures the safety of Players
ii. Clubs should allocate 30 minutes between booking slots to minimise the number of players arriving and leaving at any one time and allow for any shared equipment to be sanitised
iii. It is recommended clubs should allow a maximum of 4 people (1 Pairs Game) can play per rink at any one time and in accordance with Scottish Government requirements.
iv. For each session clubs should collect essential information for all players including emergency contact details
Arrival and Waiting to Play:
i. The clubhouse and locker room facilities will remain closed. Limited essential access for example to remove bowls and shoes may be allowed by the club and should be coordinated appropriately e.g. if the key holder looking after the facility placed the items outside for collection, but clubs should risk assess and ensure appropriate measures in place.
ii.Clubs to communicate in advance with players to advise on social distancing requirements that are being applied on arrival at the club. It is advised that players do not arrive until 5 minutes before play and must stay outside the parameters of the club until it is safe to enter, and the previous players have left.
During Play
i. Mats and Jacks: i. Players should use separate mats and jacks, however if this is not possible, whichever player collects the mats and jack is responsible for all contact with the equipment before, during and after the game.
ii. Disinfectant spray must be made available by the club. Players must use the disinfectant spray after each game to cleanse all mats and jacks (ensure these are completely dry of disinfectant before use on the green again)
iii. As a suggestion jacks or mats can be set at short, medium or long by the same player after each end rather than rolling the jack down the rink for position ii. A maximum of 4 people (1 Pairs Game) can play together
iii. The 2m social distancing rule must always be observed on and off the green
iv. Other bowls equipment cannot be shared between players (e.g. cloths, measures etc).
v. Players should always practice safe hygiene
Players should not:
i. Pick up any other players bowl that doesn't belong to you
ii. Share equipment out with your rink- e.g. cloths, measures, etc
iii. Moisten their hands with saliva before delivery
iv. Shake hands, high-five or have any physical contact with other people on the green (out with their household)
After Play
i. Players must leave the premises immediately after conclusion of play, making sure they have sanitised the mats, jacks and their hands.
The above guidance has been produced to allow a phased return to the outdoor lawn bowling greens of Scotland, where practice individually or games with members of your own household or between members of two households can take place. All players and clubs have a responsibility to take care of themselves and their members.
STAY SAFE
COVID 19 (CORONAVIRUS) UPDATE
Dear Member,
The committee have been in contact with each other over the past couple of weeks to discuss the impact that Covid-19 (Conronavirus) will have on the club.
At the moment the clubhouse remains closed and the green is not open for play. We do however need to maintain the green so that when play can commence the green is ready. Mick is presently cutting the green 3 times a week and STS continue to maintain the green as required, they have in the short term halved their fee.
Bowls Scotland have added a Question & Answer section to their website which gives good advice and suggestions as well as keeping us updated on playing issues
Steven has looked at the prospect of a 3 month shutdown (April, May and June) and how this affects the clubs finances.
Main losses of income would be – Lottery (profit), Bar (profit), Sponsorship, Coffee Morning (June date) and misc income.
Some savings could be achieved from – Annual Fees to Bowls Scotland etc., slight reduction in utilty bills and potentially some savings on green maintenance work.
Over the 3 month period he has estimated this will cost the club in the region of £5,000, this is on the assumption that all members paid there subs.
The committee therefore is asking that members pay their 2020 subs in full providing they are in a financial position to do so.
(We appreciate the some members have already enquired and paid this year's subscription and we thank them for that)
PLAYING MEMBER £60 ASSOCIATE MEMBER £10
You can safely make payments to the Club as follows:
1. Via Mobile/Online Banking
• Set Jedburgh Bowling Club up as a new Payee
• Account details - Sort Code 83-23-14 & Account Number 00170892
• Use reference field to quote your name (Forename & Surname)
• Send payment to us electronically, based on the fee summary above
2. Postal Payment
You can pay by cheque (making cheques payable to Jedburgh Bowling Club), by posting your 2020 subscription to:
The Treasurer
Jedburgh Bowling Club
Allars Mill
Jedburgh
TD8 6NR
IMPORTANT
• Please do not send any cash by post
• Please don't deliver by hand as we are trying to adhere to the Governments stay at home policy.
Whilst none of us know what the weeks and months ahead will bring, we must hope that following the Governments advise things will improve as quickly as they can. We will of course keep you updated in the situation at the Club via Facebook, Website and email.
In the meantime we hope that you all stay safe and well
Thank you very much for your continued support.
Jedburgh Bowling Club, Committee
Jedburgh Bowling Club AGM 2020
The held its AGM in the clubrooms on Wed 11th March. Out going president, Greg Nagle thanked all the members for their support over the last year and commented on how proud he was that the club was able to win its 1st Border rinks championship in over 35 years.
He then went on to propose David Lightbody as the new President for 2020 and wished him well in the chair.
Jim Tunnah was installed as the new Vice president and other changes sees Jim Mitchell and Euan Lindores go on to committee duties.
David went on to wish all the members well for the up and coming season.
Membership fees are to remain the same as last year.

Opening Night will be on Sat 18th April at 6.30pm with entertainment in the club house after. All welcome.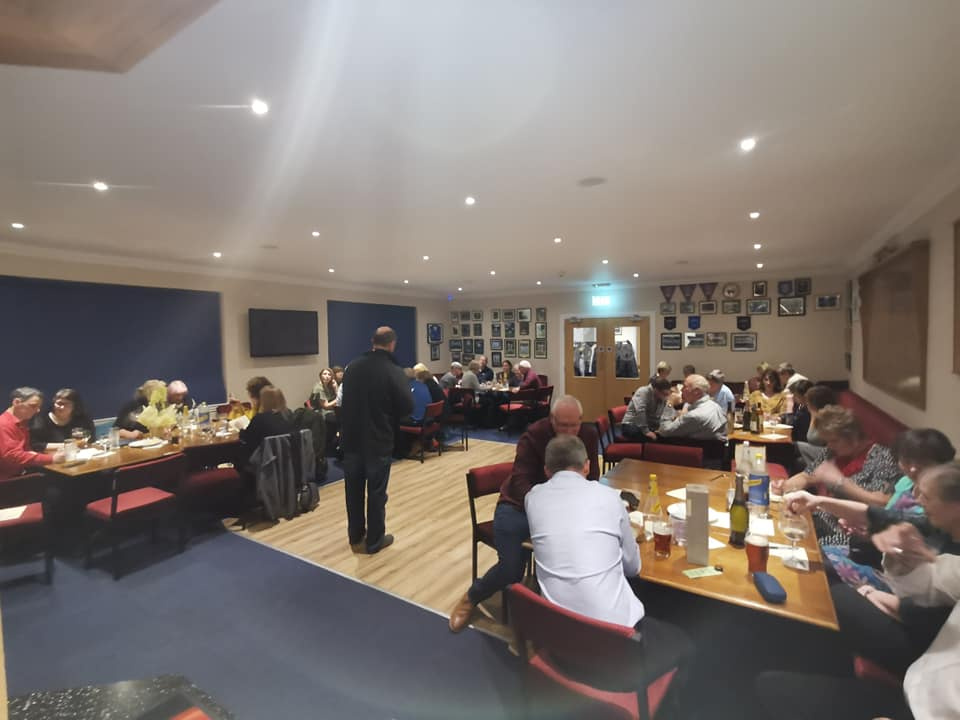 GIN NIGHT
The Club held a Charity Gin night with over 40 members and friends turning up for a great evening of tasting and quizing.
Each person recieved 6 x25ml gins of various types and were set a series of questions on each gin after Steve, from Majestic Wines in Berwick had given a short talk on each Gin.

after the Gins had been sampled a raffle took place with all the proceeds of the evening going to a local good cause close to the clubs heart.
Many thanks goes to Steve from Majestic Wines, Brian Liddle for all his help in arranging the evening and to all the businesses who donated prizes for the raffle.

SCOTS NIGHT SUCCESS.
The Club held its Bi annual Scots evening on Sat 18th January.
67 members and friends squeezed into the clubrooms to enjoy an evening celebrating all things Scottish.
President Nagle opened the evening with the Selkirk Grace and Compere for the evening, Ivor Hughes invited piper Graham Michie to lead the Haggis on a tour round the hall.

Main Club Sponsor, Alan Learmonth (Butchers) gave a stirring rendition of Burns's Address to the haggis as the company tucked into a meal of haggis, tatties, neeps and roast beef. Pudding followed.
A fine immortal memory was delivered by ex Melrosian Roy Mack and the hall was also entertained by the fine voice of Langholm stalwart Eric Laidlaw accompanied by John Mabon on Piano.
The toast to the lasses was delivered by ex Kelso Bowling Club president Ronny Fleming with the reply coming from Jed BCs Ann Gilfillan. In between the toasts Jedburghs Roy Ferguson, making his debut on the afterdinner speaking circuit, gave a fabulous rendition of 'Cotters Saturday Night' by Rabbie Burns

The ladies of Gwen Mabon and Florence Mack then closed the evening with emotional renditions of some great Scots songs.
Another great night. Thanks to all who made it happen.
GIN TASTING NIGHT
Following our very successful Scots Night, we are hosting a Gin Night. The evening will be hosted by a gin expert from Majestic Wines and tickets are £15 each. For this you will receive 6 gins and during the evening a small quiz on gins (to see if you have been listening!!)
To book a ticket please contact David Lightbody on 07852230477
Happy New year from all at Jedburgh Bowling Club.
1st up for the Club this year is our bi annual Scots Night.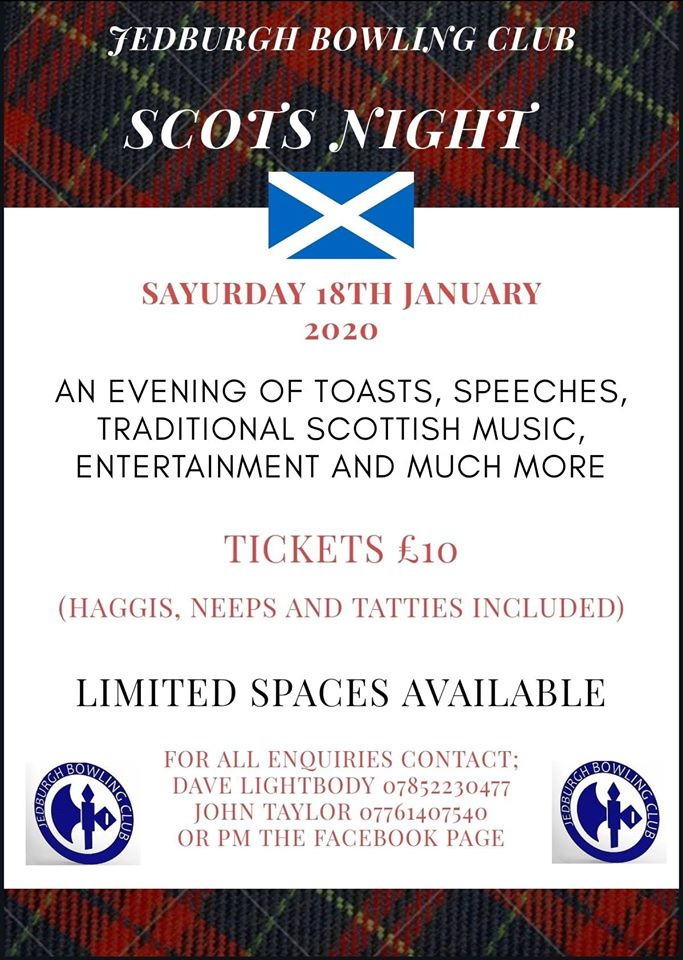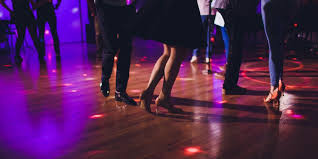 Presentation Night 2019.
The season comes to the end on Sat 23rd Nov when the annual presentation night will take place in the Clubrooms.
Doors open at 7 pm with the presentation of the trophys at 7.30pm
Afterward there will be live Music and dancing into the night.
Tickets are priced at £5 and all intending to go should contact David Lightbody on 07852230477 to reserve a Ticket. Limited numbers so be quick.

2019 News will appear here shortly. sorry for the delay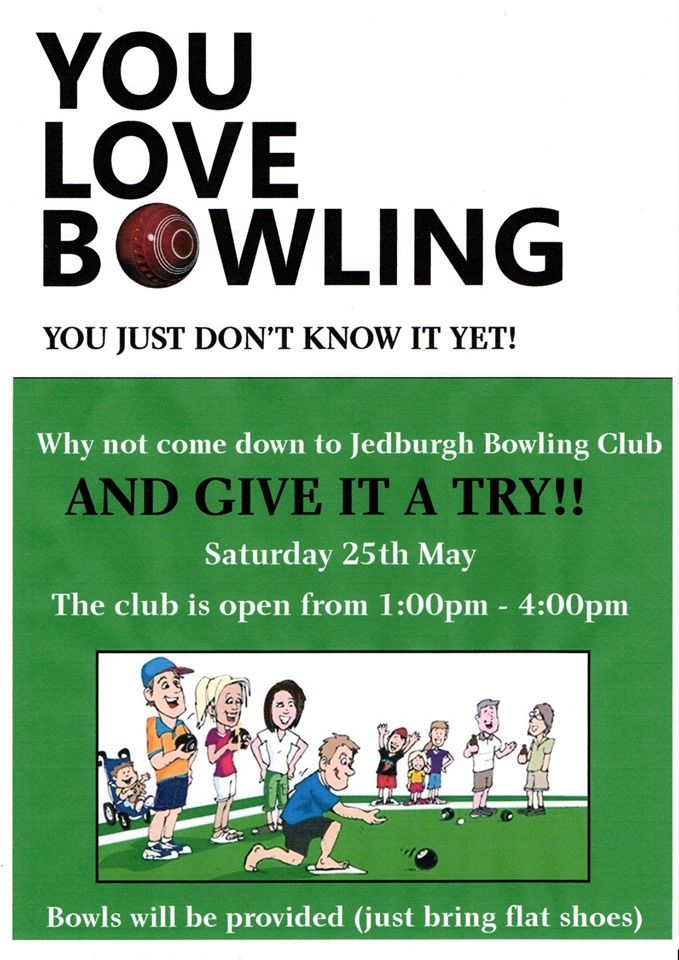 Gents borders League Div 1.
Jedburgh 75 - 60 Melsrose
With last weeks game away to Ettrick Forrest being called off due to the weather the gents returned to league action against the top of table Melrose team.
The Melrose side travelled to Jed with high hopes of a victory which would've seen them clear at the top of the division but the home team had other ideas and put together a great show of nerve determination to get them over the line in what was a close game throughout.
4 rinks up and 1 draw in a close game is a great team performance with a great come back from 7-13 down for team Nagle to win 15-13 and a solid 18-11 win for team White were particular highlights.
Full result

| | | | |
| --- | --- | --- | --- |
| D Munro | 15 | 12 | R Nichol |
| A White | 18 | 11 | L Haldane |
| D Lightbody | 14 | 10 | M Thin |
| G Nagle | 15 | 14 | I Crawford |
| E Lindores | 13 | 13 | N McNally |
| Total | 75 | 60 | Total |
Top Rink; R Lindores, G Robson,C Hogg, A White (skip)
Although its early doors yet, the result puts Jed joint top of the table but with a game in hand.

Gents Border League Div 1.
Jedburgh 75 - 63 Earlston

The Gents got the 2019 league season off to a good start with a solid home win over Ealston by 12 shots.
The game was a tight affair throughout with Earlston taking an early lead but the home side soon caught up and by the half way stage had a slender 8 shot lead. The game remained tight with all 5 games being within touching distance of each other but the Jed side managed to hold on to the lead untill the final bowl.
No top rink (shared equal 4 shots up)
| | | | |
| --- | --- | --- | --- |
| D Munro | 19 | 16 | S Greer |
| D Lightbody | 13 | 9 | N Kellett |
| A White | 15 | 13 | P Scott |
| G Nagle | 14 | 10 | G Cessford |
| E Lindores | 14 | 15 | M Goodfellow |
| Total | 75 | 63 | Total |
Seniors League.
Ettrick Forest/ Selkirk V Jedburgh
The Senior Gents team opened up the season with a heavy away defeat at the hands the Ettrick Forrest / Selkirk combination team going down by a score of 67-43. and only 1 triple up.

Next week is at home v St Ronans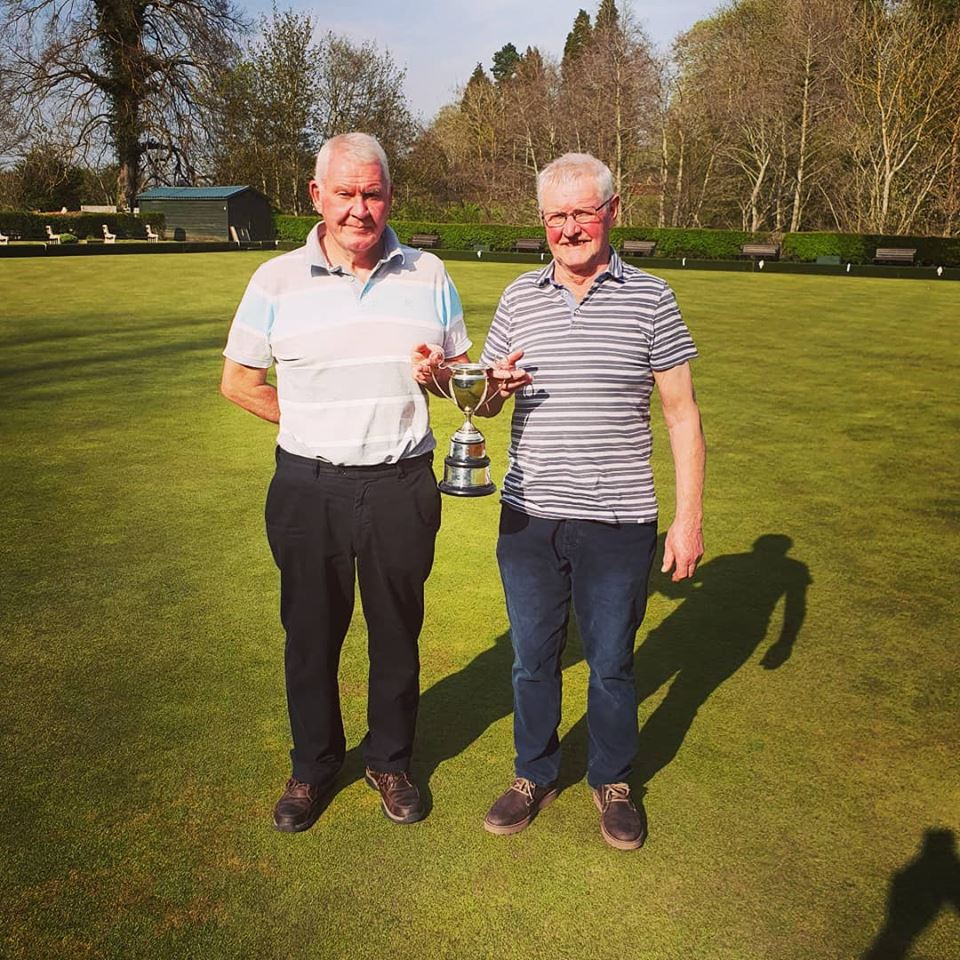 Starrett Cup 2019
The annual opening tournament ,The Starrett Cup, took place in gloious weather and a health entry of members.
This years competition was in pairs format with only one pair making it through all three games of 6 ends undefeated .
This years winners were Podge Somerville and John Taylor (skip)
Well done!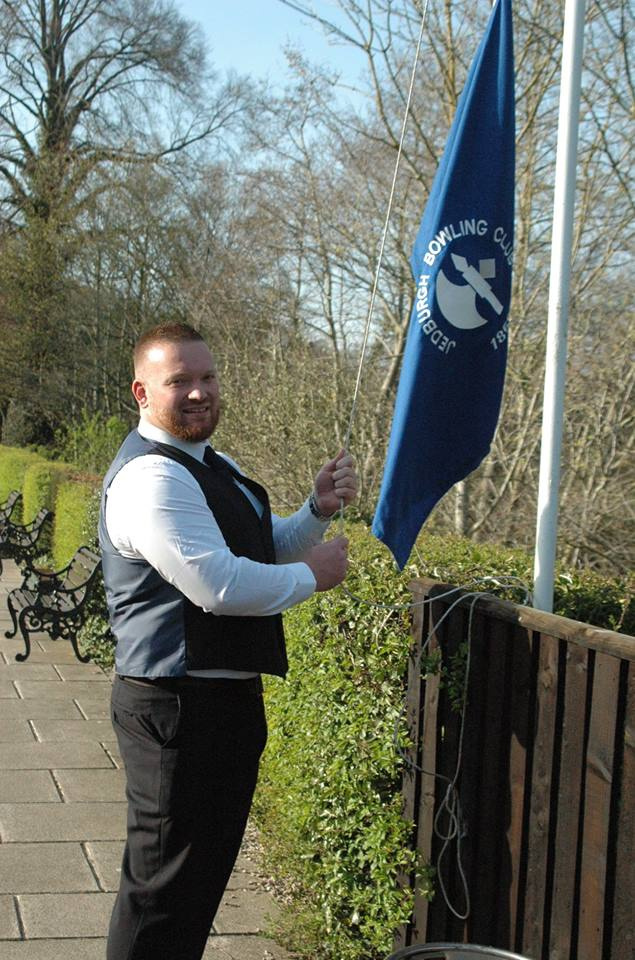 Opening Night
On a glorious Saturday evening the Club opened the green for the 2019 season. After a minutes silence for our recently departed members and friends President Greg Nagle raised the club flag and asked his friend Stacey Redpath to roll the 1st jack.

The annual Presidents team v Vice presidents team game then took place with the Presidents team winning by a slender 1 shot.

The evening was finished off in the clubrooms with a night of dancing and merriment late into the night.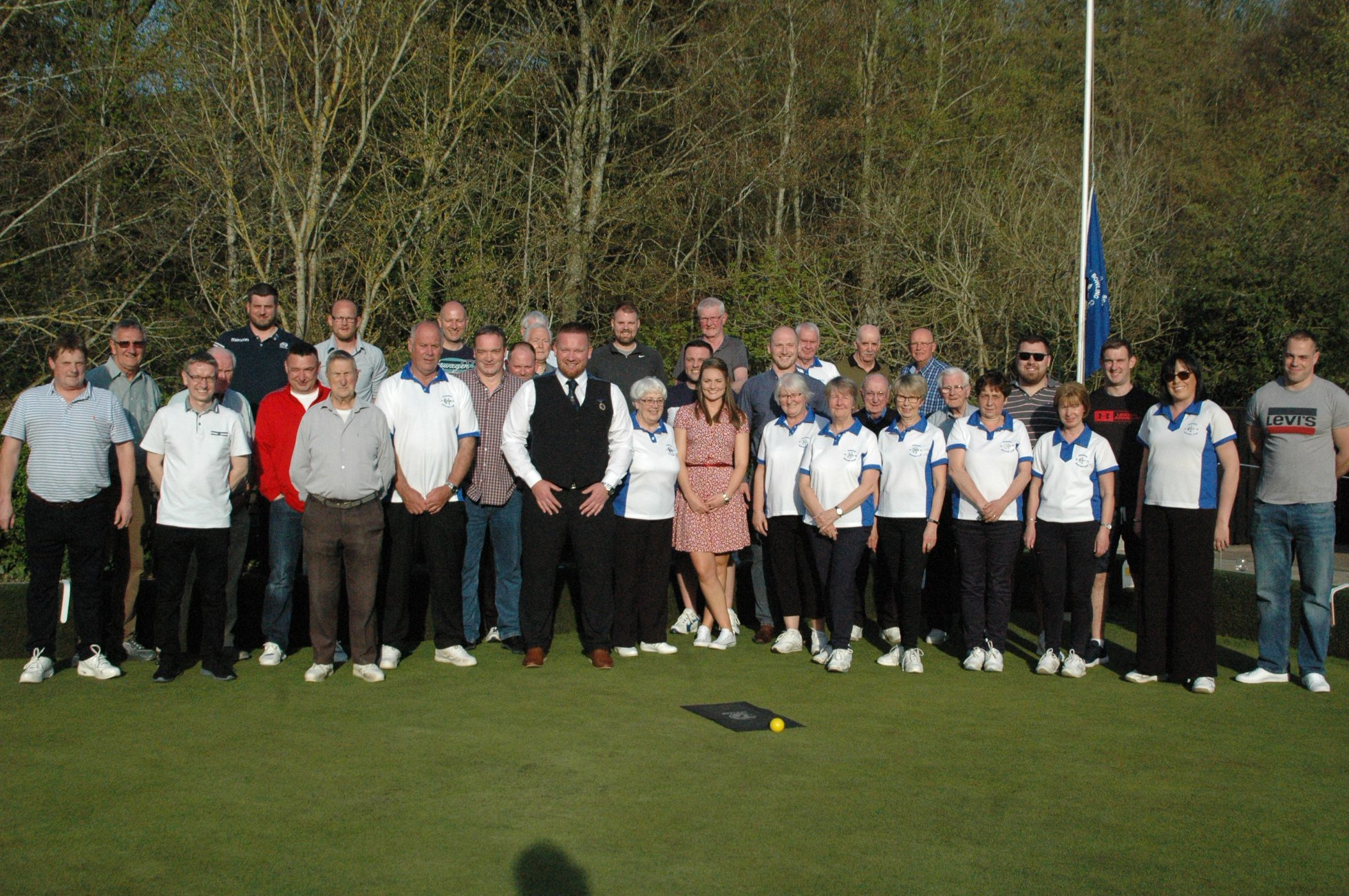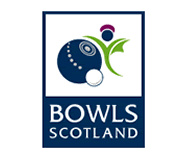 The Draws for the 2019 Scottish Bowling Championships are now available to download by clicking here
Scottish & Border Draws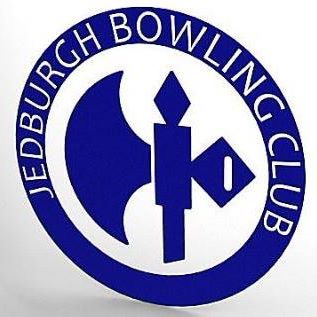 The fixture cards are now available to pick up in the Clubhouse or alternatively you can down load a copy by clicking here
2019 fixtures

The Bowling Club will officially be opened by President Greg Nagle on Saturday 20th April at 6pm.
Greg will Raise the flag and the first jack of the year will be played which will offically open the green.

Following this there annual Presidents team v Vice Presidents team game will be played .
All intending players and members are asked to have there names in for 5.30pm ready for a 6pm start.
Following the bowling there will be music in the club house from Spectrum Discos who will play music for all tastes. this will start around 7.30pm
All new members, guests and hingers oan are welcome to attend.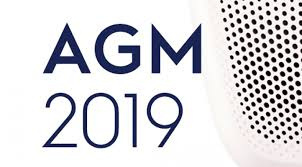 The Club held its AGM on Wed 20th March. Out going President, Brian Liddle, thanked all the members for all the hard work that has been carried out over the past year and congratulated all of last seasons trophy winners. He then handed over the chair to the new president for 2019 Greg Nagle..
Other changes of note this year are Phil McCabe standing down as green ranger and Mike Nichol taking over. Niki Hill and D Lightbody take over on the gents selection from Euan Lindores and Greg Nagle and Dougie Munro stepping down from the bar with the general committee taking over the duties.

MEMBERS ARE REQUESTED TO TAKE TURNS ON BAR SHIFTS WHERE AVAILABLE.

Subscriptions will remain the same as last year at full member £60, and social and youth members £10. A £1 fee is requested to enter all singles and pairs championships.
Full Committee update can be viewed here.
Committee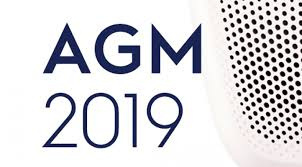 The AGM is to be held in the clubrooms on WED 20th March at 7.00pm. Please make the effort to attend. ***NOTE THE CHANGE OF DAY***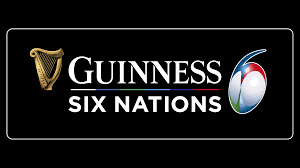 Welcome along to a New Year at the Jedburgh Bowling Club.
The season hasn't started yet so to keep us all entertained through the long winter months the Club will be open for all of Scotlands Guinness Six Nations Games.
The Club will be open 1hr before all games and food will also be available. Please contact the club for more information.